Glen Osprey Farm

The Icelandic Sheep Years

Nancy Pease, Shepherd

The Rettir - Heading home for the winter, Iceland, September 1998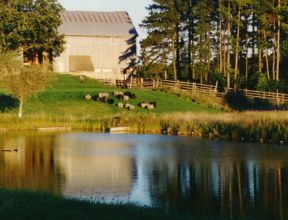 Evening at the Pond [Homefarm]
These pages represent the past history of a very good time in the sheep business. The flock was dispersed in May of 2005 however the wool inventory remained.

In 2009 I was a supplier of yarns and ready to spin washed wool to L'Anse aux Meadows, Newfoundland

http://www.pc.gc.ca/lhn-nhs/nl/meadows/index.aspx

Although sheep have been raised on this farm almost from the begining we have only had purebred Icelandics since 1990, the original three animals being from Stefania Sveinbjarnardottir Dignum's second importation.

Triplet births and wool quality are the traits that we feel are most important and for which we are actively selecting. Then there is the remarkable beauty of these creatures! Two trips to Iceland have only confirmed and strengthened our appreciation of this unique breed.

April and May are lambing time at GOF and breeding stock is available from mid-summer on. We are especially proud of our grass-fed freezer lambs ] sold by the half carcass].Orders are taken in August.

The Canadian Livestock Records Corporation, 2417 Holly Lane, Ottawa On., Canada K1V 0M7, 613-731-7110,FAX613-731-0704. clrc@clrc.on.ca, is the only recognized registry for Icelandic Sheep in North America, at this time.

Rams in Winter
The wool
Rooing Ram by Huronia Spinners

The Icelandic breed is one of the oldest and purest domesticated sheep in the world. As do most 'unimproved' old breeds, it has a dual coat. The long outer coat is called TOG and the finer inner coat is called THEL. On average, the TOG has a count of 50-55 and the THEL of 65-70. This varies widely from animal to animal within the breed.

The wet, windy, cold climate of Iceland probably has exerted a selection bias for this useful and durable double coat. The TOG is good protection against the wind and rain, while the lofty THEL is an excellent insulator.

The TOG has little or no crimp even though it can appear as long soft ringlets on the animal, sometimes sweeping almost to the ground. The length of TOG makes it possible to spin the wool very loosely and still obtain strong yarns.

The THEL has a unique crimp which is the reason Icelandic bulky wool yarns are so light and springy.

In years gone by, when wool was handspun in Iceland, it was common to separate the TOG and THEL by hand. This allowed for much more varied uses than is possible with the wool of other breeds. Undergarments and baby clothes, horse halters and woven cloth could all be made by sorting the wool specifically for the end use.

The breed has one of the widest palettes of natural lustrous colours available from living animals: jet black, mat black, a wide range of greys, dark browns, light browns , fawn, tan, oatmeal, mat white and silver whites. There are a dazzling assortment of patterns and spots available. Fleece weight ranges from 3 to 9 lbs depending on age, sex and nutrition. The wool is naturally shed once a year, and can be ROOED by hand.

But for North American markets, twice a year shearing seems to provide the best product. Commercial buyers cannot make use of the extra length of Icelandic Wool the way handspinners can, but are eager for the six month length of white fleeces.Custom spinners such as Belle ValleeWools [705-647-8686] appreciate more consistant lenght to accommodate their machinery processing. Frequently,one of the two clips per year will be more suited to the felter's craft.
WHY ICELANDIC SHEEP
We purchased our first Icelandics so that I would have something to spin, as the Romanov wool that I had from our productive meat flock was really too hairy for much more than novelty spinning [ like dust balls and dryer lint, Romanov wool has to be tried by ever fledgling spinner!].
The intelligence and humour of these independent Icelandics makes them a good choice as a pet. The variability of the fleece and the complex colour genetics make them a challenge to breed.Their modest production [ 200% lambi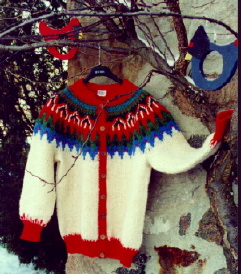 ng] and self reliance make them very easy to shepherd.
Knitting is something I taught myself to do more than 30 years ago when I had a lab job and had the luxury of "breaks" at work.But I only got serious about it somewhat later and really started spinning in order to have a good supply of "free" yarn! As with so many women, I was afraid to knit anything but the precise patterns ,with the designated yarns , and finish as per the instructions!!! Spinning set me free from all of that. Very soon I found out that there was a Production Spinner inside! Now there are mountains of my yarns ,of different weights and colours ,waiting for me to live long enough to knit them all! Making my own yarns has also allowed complete freedom to experiment with all manner of dyes, both commercial and organic. This is a world of pleasure all on its own! Frequent requests for our wool products suggested that we start a litte subsiduary........
GLEN OSPREY WOOLTRADE YARNS
Wool from our small flock is sheared twice a year, washed at home and spun at home by myself or my daughter, Elizabeth Ruttan. There are three different wheels employed to result in differentweights of yarn: the trusty old workhorse Luoet; the speedy Schacht; and the elegant Fjord Reproduction Wheel of David Syme [ Wharncliff Wood & Wheele, symed@sun.log-in.com].These one, two, or three plied yarns are routinely preshrunk in hot water and rinsed with eucalyptus oil to discourage moths. Although we spin to suit ourselves, we have more than enough to share! Both Elizabeth and Nancy knit as many as ten sweaters a winter each and no two are going to be thae same as we are always experimenting withsome new combination of colour and texture, deign and finish. Knitting is a wonderful and fluid means of expression and we are fortunate in North America to be experiencing a major knitting revival ! Who is that knitting in class? Could be Elizabeth! Who is that knitting at cattle sales and farm meeting? Could be Nancy! Who is that digging up the garden for dyestuff and collecting weeds for the dye pot along the roadside? Could be both of them! Individually, and together, Nancy and Elizabeth were active members of: the Huronia Spinner's Guild, the Freewheelers Spinning Guild. the No Name Spinner's Group , and the Knitter's Guild of Canada [ bootsie.ckc@sympatico.ca].
THE YARN SHOP
Mail order and direct farm visits are our usual methods of selling our yarns. Call Nancy on the phone [519-925-6412] or e-mail us [ nipease@salerscattle.com].

*yarns are usually spun suitabl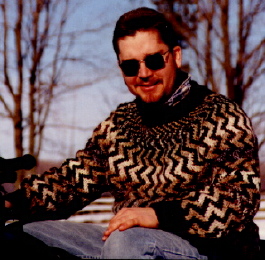 e for 6mm needles or 4mm needles

*yarns have been successfully sent ,by regular post, all over this country
*wool blends and dog or cat yarns are sometimes available [ variable prices]
*custom spinning of dog hair is ocassionally possible [with deposit]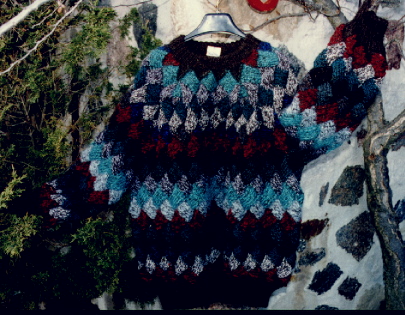 REMEMBER TO PRACTICE SAFE KNITTING---LOOK BEFORE YOU SIT!