Glen Osprey Farm
A Brief History
Glen Osprey Farm is located approximately 100 kilometres north west of Toronto,Ontario, Canada.
N 44º 14.440'
W 80º 15.345'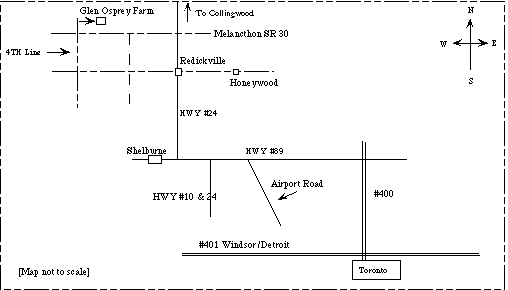 The farm was established in February of 1972 when Nancy, David and our then two year old son Andrew moved from the Kitchener region of Ontario to the snow covered fields of Dufferin County. Our daughter, Elizabeth was born in June of that year followed by Christian in August of 1976.

Polled Herefords were our first livestock, soon to be followed by a small herd of Highland Cattle. The Polled Herefords were gradually phased out in the early 80's when we began our Salers herd. Nancy's first sheep, some crossbred ewe lambs and a Colombian ram, came to the farm in July of 1979. The Highland herd was dispersed in the Fall of 1995 but we still maintain our web page to show you some of the history of Highlands at Glen Osprey Farm.

The home farm is 306 acres (124HA) of gently rolling topography with the predominant soil type being sandy or silt loams. Glaciers blessed us with their gift of stones so, while the surrounding lands are very productive potato farms, our property is best suited for the production of forage crops (willing volunteers for stone picking are becoming increasingly harder to find!)
| | |
| --- | --- |
| | |
| Home Farm in summer | Bull Test Farm in winter |

Two other properties complete the farming operation:
The Maple Valley Farm, 152 acres (61HA), is used for hay, pasture and mixed grain (65%oats and 35%barley) production.
The Bull Barn Farm, 100 acres (40 HA), is used for hay, pasture and mixed grain but this property is used exclusively for our bulls. With no cows in their vicinity, the bulls remain more docile. It is on this farm where we performance test our bulls.

Our winters usually require us to use stored feed for our cattle and sheep for at least 220 days each year. Most of the hay is stored in large round bales and stored in a large pole barn. We had used tarpalins for many years but were not satisfied with their short life expectancy in our windy environment. They were also a pain to take off when covered with snow and ice. To supplement our winter feeding and to allow for a more vigorous establishment of our forage crops, oats are planted as a nurse crop, then cut in the dough stage and round baled. This provides a very palatable, high energy feed for the cows during their third trimester especially now that these bales can be wrapped in plastic and made sileage of. We have had this feed test in the 20% protein range. The downside to the round bale sileage is the refuse plastic. Unfortunately, there is no recycler for this product in our area but we have used the small square baler to bale each year's plastic and are storing these bales until such time as recycling can be done.

All our mature cows are out wintered with no shelter. The younger females are fed separately until early March, one month prior to calving, when they are sent to calve outside with the mature cow herd. The calves are tagged, tattooed and vaccinated against white muscle disease the day they are born and moved from the calving area to a new field. This practice has greatly diminshed the incidence of scours in the young calves; so much so that we have never found it necessary to use vaccines as a scours preventative measure.

Calves remain on pasture with their dams until late October when they are all weaned. To more accurately assess the milking ability of our cows, creep feeding is only used for a few weeks prior to weaning to lessen the stress. Cows are checked annually for pregnancy in the fall and open cows culled.
Livestock Exports
Both Salers and Highland cattle have been exported to the United Kingdom, United States, Denmark and Australia (embryos), Highland cattle have been exported to Germany and Sweden and Romanov sheep have gone to Cuba. When you find the GOF prefix in pedigrees from any of these livestock breeds, you will know that the stock was bred at Glen Osprey Farm. We have a quarantine barn at the home farm that is used for export health testing. This assists us in providing expert care at a reasonable cost.

We also make a little Maple Syrup from the 125 maple trees that we tap each spring. Trudging through the snow with two twenty litre pails of fresh sap helps to get us in good physical shape for the summer. It takes approximately 40 litres of sap to make 1 litre of maple syrup.

Sap dripping from the spile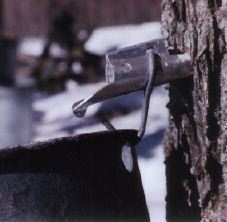 CIDA Beef Cattle Project in Vietnam
David Pease travelled to Hanoi, Vietnam during the Fall of 1996 to conduct an assessment of beef production in that region of the world. His full report to the Canadian International Development Agency, CIDA, is available here in Adobe Acrobat format. CIDARepo.pdf.

You are only able to read pdf files using Adobe Acrobat Reader. Fortunately, this is freeware and can be obtained at the Adobe Acrobat site.



For further information,
please contact us
at
Glen Osprey Farm
438657 4th Line
Melancthon, Ontario
Canada
L9V 1T2
Tel: 519-925-6412



Email: dpease@glenosprey.com